Invisalign vs Braces in Toledo, OH
Invisalign SmartTrack Material and SmartForce features are unique and improve control of tooth movement more effectively than braces and other clear aligners. Call us now to get your complimentary exam at Great Smiles Family Dentistry. We are conveniently located at 4646 Nantuckett Drive Toledo, OH 43623.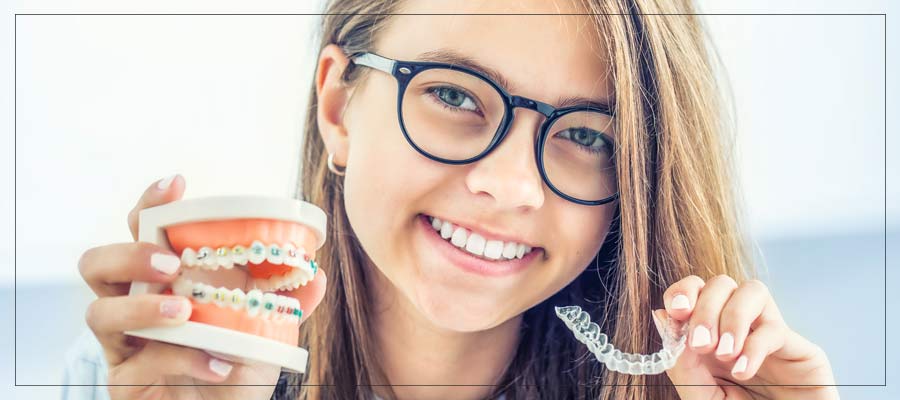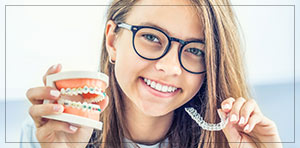 Table of Contents:
Dr. Nadeem Khan, DDS is a Platinum Invisalign Dentist for the Residents of Northwest Ohio Since 2016 and Lectures for Invisalign.
Why traditional braces are not a good choice?
What are Invisalign aligners?
What does the Invisalign cost vs braces cost?
What dental problems can be corrected by Invisalign aligners?
Dr. Nadeem Khan, DDS is a platinum Invisalign dentist for the residents of Northwest Ohio since 2016 and lectures for Invisalign.


When people think about straightening their teeth and improving their smile, it often conjures thoughts of unsightly metal braces. Traditionally, braces have meant wearing uncomfortable brackets adhered to your teeth, with painful tightening regularly and rubber bands that cut into the insides of your cheeks. But now, there's a better way to straighten your smile. At Great Smiles Family Dentistry, we are committed to providing our patients with the very best cosmetic dentistry services available, and that means using Invisalign's clear aligners in Toledo OH to help them achieve the best smile possible without the pain and hassle of traditional braces.

Why traditional braces are not a good choice?


Anyone who has worn traditional braces can tell you it is not a pleasant experience. While you can use small pieces of wax to dull the scrape of the metal against the inside of your mouth, there is no way to completely avoid having the inside of your lips and cheeks scraped or cut at some point during the process. Metal braces can also be incredibly difficult to clean. Because these braces cover a significant portion of your teeth's surface, some patients can even experience discoloration that has to be corrected after the braces are removed.

What are Invisalign aligners?


Conversely, Invisalign aligners are easy and convenient. They are nearly invisible when being worn, making it easier for you to enjoy your smile long before your treatment plan is finished. The aligners can be easily removed so you can thoroughly clean your teeth, as well as your aligners, leaving you with a clean and healthy mouth.

What does the Invisalign cost vs braces cost?


Many patients have questions about the cost of Invisalign vs braces in Toledo. Of course, there are pros and cons to both Invisalign and braces, but for most people, the costs are very similar. The total cost of your treatment plan will depend on a variety of factors, including the length of time you will need to wear your aligners and the complexity of the issues to be corrected. At Great Smiles Family Dentistry, we strive to offer our patients the most exceptional dental treatment available, which is why we provide in-depth consultations that can help us fully understand each patient's unique needs and offer greater insight into the exact costs and length of treatment your individual situation will require.

What dental problems can be corrected by Invisalign aligners?


Invisalign aligners can help the residents of Northwest Ohio with many of the most common issues that patients seek to correct with braces. They are a great option for people who want to straighten their teeth, correct an overbite, underbite, or crossbite, close gaps between their teeth, or work to correct an open bite or crowded teeth. For some of the most severe cases, Invisalign may not always be the best option. For teeth that are severely rotated or angled more than 45 degrees than the normal range, Invisalign may not allow your dentist enough precise control over your treatment. A personal consultation is always the best way to decide if Invisalign is right for you.

When it comes to questions about Invisalign vs braces in Toledo, OH, there is no better place than Great Smiles Family Dentistry to address all of your concerns. We are a premier provider of Invisalign in the Toledo area and are proud to offer the best dental service possible to help you achieve the smile you've always wanted. Contact us today and schedule your Invisalign consultation. We serve patients from Toledo OH, Oregon OH, Ottawa Hills OH, Moline OH, Woodhurst OH, Harbor View OH, and Shoreland OH.