Community Outreach by Great Smiles Family Dentistry in Toledo, OH
Take steps toward a healthy and beautiful smile. Our team at Great Smiles Family Dentistry are committed to helping patients afford their dental care needs.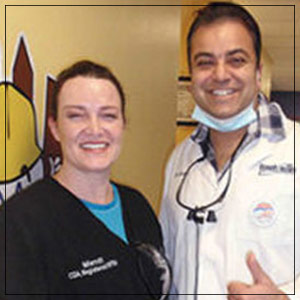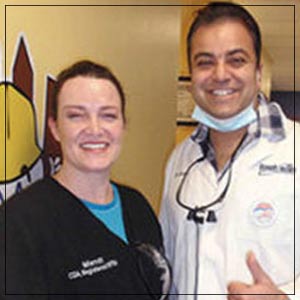 Dr. Khan and Mendi Help "Give Kids a Smile"!
Everybody deserves good dental care, even those who are the least able to afford it. That's why Dr. Khan often invites Mendi from our staff to join him, volunteering their time, to provide free dental care for disadvantaged children.
The two, once again, offered their talents during "Give Kids a Smile" Day, held every year at the Dental Center of Northwest Ohio in downtown Toledo.
For most of these children, trips to the dentist are rare and frightening. Just imagine how the kids' fears evaporate once they meet our wonderful team from Great Smiles Family Dentistry!
Dr. Khan says, "The parents are SO appreciative! It mades Mendi and me feel wonderful to be able to help these kids by doing what we LOVE to do. How lucky can we get?"
Miles for Smiles
Despite the Rain, "Miles for Smiles" was a Ray of Sunshine for Many Needing Dental Care
The continuous drizzle had little effect on the sunny dispositions of hundreds of Toledo area dentists, co-workers and friends who took part in "Miles for Smiles" at Olander Park in Sylvania on May 14, 2011.
The Great Smiles Family Dentistry Team was proud to participate in this effort which raised almost $60,000 to help those in our area who can't afford even basic dental care.
Here's our team, all looking a bit soggy, but happy.
And isn't that an award around Dr. Khan's neck? The good doctor medaled in his age bracket, finishing the 5K in a respectable 29:03. Congratulations! We serve patients from Toledo OH, Oregon OH, Ottawa Hills OH, Moline OH, Woodhurst OH, Harbor View OH and Shoreland OH.