Meet Dr. Nadeem Khan at Great Smiles Family Dentistry in Toledo, OH
Great Smiles Family Dentistry located at 4646 Nantuckett Dr Toledo, OH 43623. Dentist Nadeem Khan, DDS and team of dental care specialists provide top rated general and family dentistry specializing in cosmetic dentistry for Northwest Ohio.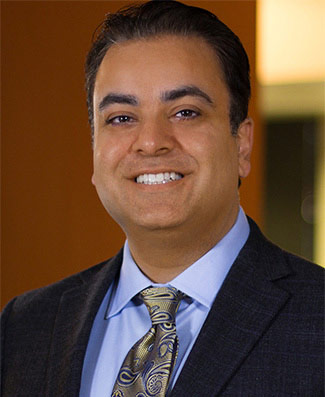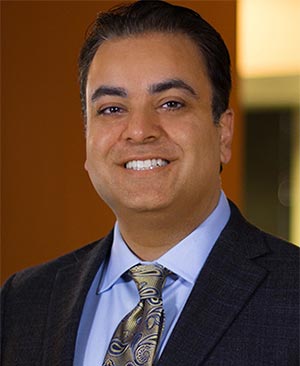 Family Dentist Nadeem Khan
With over 20 years of experience, Family Dentist Nadeem Khan has been practicing dentistry since 1995. Dr. Khan is a talented and caring dentist who has a passion for general dentistry, especially cosmetic dental work.
When it comes to your oral health, you're in the right place; Dr. Khan's inspiration for becoming a family dentist came from the enjoyment of working with his hands along with meeting people. Whether you're in need of a minor or major dental procedure, Dr. Khan is dedicated to helping you find your perfect smile.
Achievements
Dr. Khan lectures for Invisalign
On the Board of Directors of the Toledo Dental Society 2016 – Present
Pierre Fauchard academic honors
Dr. Khan is one of the area's top Invisalign dentists.
Invisalign Platinum Member 2016
America's Top Dentist 2015
Leading Physician's of the World 2012
America's Top Dentist – 2009
Credentials
From his advanced educational background to achievements and awards, Dr. Khan's dedication to dentistry makes him stand out from the rest.
Undergraduate degree from the University of Michigan
General practice residency at Medical College of Ohio
Las Vegas Institute for Advanced Dental Studies
Advanced coursework in Laser Dentistry
Certification in Invisalign
The Rosenthal Institute at New York University-Aesthetics
Dentistry
Lumineers Certified Dentist
Associate Fellowship Certification-World Laser Institute
Lecturer for Invisilign
Get to know Dr. Khan
Dr. Khan grew up in Livonia, Michigan and is currently residing in Toledo, OH with his wife, Reema, and their two children, Omar and Usman.
Down to earth with a sense of humor, if Dr. Khan had it his way, Michigan would beat Ohio State University every year!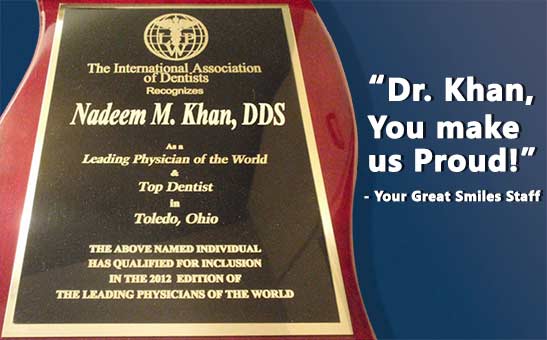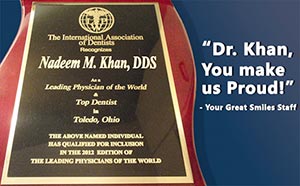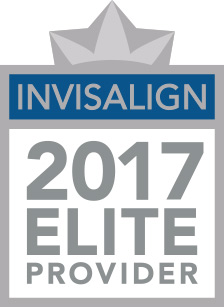 Meet the Great Smiles Family Dentistry Team!
The "Great Smiles" Team – You're looking at the finest dental team in Northwest Ohio!
There's no doubt about it.
Dr. Khan goes above and beyond to recognize his staff. Check out some photos from past events.